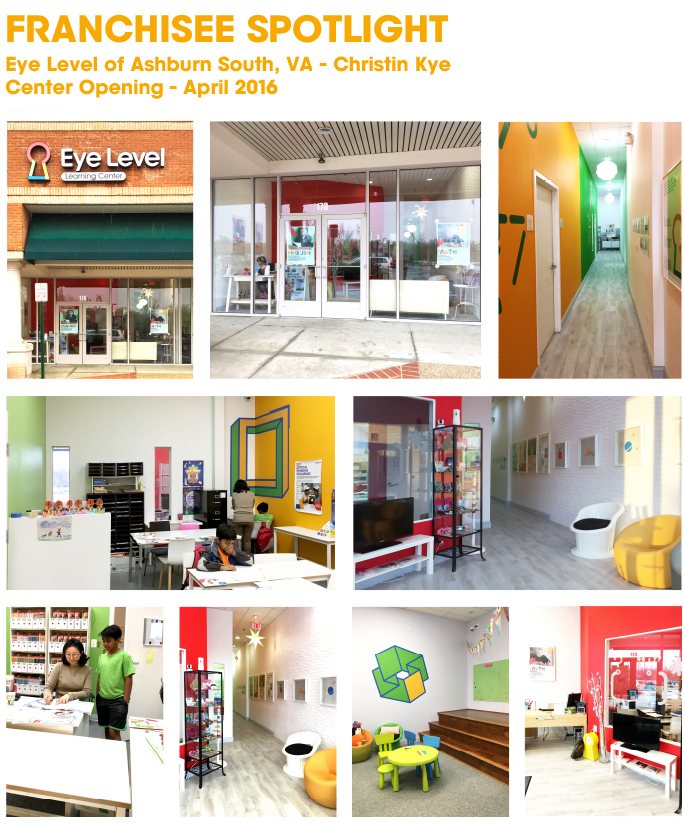 Eye Level of Ashburn SouthChristin Kye, the owner and operator of the Eye Level in Ashburn South, began her journey to find the right program on the west coast in Seattle, then at a franchise expo in Texas, as well as traveling through various states to see what options were out there. After contacting two other well-known competitors, she saw that Eye Level had a clear concept known as SDL. The opportunity to have a closer look at how a center, based on the SDL concept, was operating led to the beginning of an ongoing relationship with Daekyo America.

Openness, not as readily given to her by other brands, set the Eye Level brand apart. And after a year, she opened her own Eye Level Learning Center in Ashburn, Virginia. It wouldn't be accurate to say that everything came easy. Indeed, Eye Level has been a rocky journey for Christin. As a center director, she has learned that combining business and education can be incredibly challenging. Hiring, training, and striving to upgrade her center operation to be one of Eye Level's best SDL centers hasn't been easy. In fact, it is still a constant work-in-progress. One of the best tips that she has personally received was from a previous spotlight. Every single spotlight article has given her inside understanding along with a different point of view from which to learn and grow.

Christin has found that at the heart of this business is the center's and the instructors' passion for helping students, and a belief in the SDL program to promote and operate the Eye Level program well. She notes that the skill she has found to be of the utmost importance for a center director is listening. By listening to understand, the center director can win over the parents' and students' hearts, creating loyal customers.

The Eye Level learning concept has shown the Ashburn South staff a new way of approaching education and teaching. It has been fascinating for the center to witness the achievements of their students through the math and English program. Ashburn South takes the philosophy of seeing each student's "eye level" to heart. They take the time to listen and wait for the students to be ready to work on their own chosen goals. The center director and instructors know their students' dreams and wishes, which they use to set personal short-term goals.

The center understands that they cannot solve every problem in a child's life, but everyone in the center strives to learn and apply the SDL method. The staff sees themselves as partners with the students, to walk together on the path to self-directed learning habits and preparation for future academics and careers. Above all, Ashburn South wants to build their students to become confident leaders and independent, life-long learners.

Eye Level of Ashburn South combines a passion for self-directed learning, true care for students, and constant communication with parents. They believe this is, without a doubt, the key that sets Eye Level, and their center specifically, apart from competitors. Christin and the staff at Ashburn South will continue to advocate Eye Level's SDL philosophy to every student in their area and hope the news will spread from parent to parent, city to city, and state to state.
 

Learning the letter sounds is the first stage of blending words together to decode and fluently read. It is one of the most important foundational steps that students will cover in the learning-to-read process. In Level B, it is essential that students complete the level with a full understanding of not only writing the letters of the alphabet but being able to identify the letter sounds. As students progress to the higher levels, the focus will shift to that of blending letters together to form words and then to reading fluently at a consistent rate. Regarding the pace of Level B, student skills and the ability to concentrate still varies significantly. As with previous levels, pay close attention to each student's concentration, writing ability, and acquisition of letter sounds. Some students, particularly younger, may need more repetition in this level to master the concept of individual letter sounds. This is an essential concept for students to master, as it is the first major building block in the learning-to-read process. Aim for students to complete at least two booklets per week.

As with Level A, the inside front cover is either an introduction to the concept or a review of the previous learning focus. The first page of each booklet—except the review booklet—introduces the new letter sound. Students look at a picture and then trace words that begin with the target sound. This is followed by a focus on phonemic awareness that develops students' abilities to recognize specific sounds within words. The introduction pages should be completed with the instructor to determine the mastery of the letter sounds, ensuring the student is ready to complete the rest of the homework.
Level B is the first level in which students are assigned writing booklets. For each booklet in Level B, there is a corresponding "mini-book" that shares words and pictures focusing on the target letter. These mini-books can be completed in class and at home. Students are asked to cut out the mini-book and fold the page to create a small book that fits easily in their hands. Not only do these writing booklets provide students with additional writing practice, they encourage students to cut and fold, actions which help students develop their fine motor skills. The mini-books should be assigned one-to-one with the reading booklets. In order to make sure these mini-books are completed, be sure to cut them out prior to the class session and place them in the student folder for ease and convenience. The student may complete one in class and one for homework depending on time.
he Resource Book is a great tool for reinforcement. The Letter Writing Practice Sheets can be utilized for students that still have difficulty, or make small mistakes when writing their letters. The Vocabulary Practice Sheets can be utilized for students that are stronger within the level, able to write all their letters successfully, and may need additional practice. These sheets enable students to practice word writing as well as incorporate a portion of drawing to reinforce the learned vocabulary words.

Level 21 Booklet 23 – Coach Pages 3 & 4
Determine the perimeters of figures in a pattern.
This booklet uses a method similar to booklet 23 of Levels 12, 13, and 14.


Start by finding the difference between two figures.


Use this difference and multiply it by one less than the number of figures.


Then, add the perimeter of the first figure to determine the requested figure's perimeter.


In the example: The difference between two figures is 60 cm. From the first to the third figure, 60 was added twice. How many times was 60 cm added from figure 1 to 10? (Answer: nine times)


What is the perimeter of the tenth figure?
(Answer: 60×(10-1)+40=580).
Add 40 since there are 40 blocks at the beginning.
Level 21 Booklet 23 – Coach Pages 9 & 16
Determine the pattern in related equations and use the pattern to determine the values of other equations.
Carefully check how many digits there are from one row of numbers to the next.


In the example: The number of 9s on the left should be the same as the number of 8s on the right. The pattern usually increases by one digit in each step; however, in Q3 and Q4, it jumps from 8 digits to 10 digits, skipping the row that would contain 9 digits. Most students fail to notice this jump. And only put 8,888,888,888 not 88,888,888,888.
SDL Conferences

As the director of the Eye Level of Palatine center, I try to talk to all my students before and after their classes. I find out how to motivate them and help them progress with their studies. I make myself available for parents throughout the week to discuss their child's needs and goals.

In addition to this, we hold formal Self-Directed Learning (SDL) Conferences two to three times a year. These conferences are different from my informal student and parent meetings. This is a special occasion in which all three parties—student, parents, and director—sit down together and evaluate the student's self-directed learning development.

I usually send out an announcement that looks something like this:
At Eye Level, we take pride in the SDL philosophy because we believe that students should direct their learning and create their own opportunities. Self-Directed Learning = "I'm the key."
SDL is about setting goals, reviewing performances, determining individualized progress, and working with coaches (aka instructors, center director, or parents) to meet goals. By reaching their goals and overcoming setbacks, students become the key to their future.
Our past SDL conferences have been successful in helping our students think about their goals and build a plan to achieve them.
Students MUST attend!
A typical SDL conference takes 20-30 minutes. The student and director will go through their SDL contracts (review past ones and start new ones). At this time, parents are quietly sitting in the back listening as their child evaluates their own progress and sets new goals. We also focus on what it means to be more self-directed and identify how they can be the key to their future.

At our center, we spend more time nurturing self-directed learners than teaching math or English. The SDL Conference is a great time for everyone to remember how we can all be the key!
"Together, We Build"

The 2017 Eye Level Franchisee Conference will be held July 21st ~ 23rd, 2017 in downtown Chicago. The theme of the conference is "Together, We Build." This event has been prepared with the intention of expressing our gratitude for our hard-working franchisees. We hope this event can be a chance to communicate and enjoy ourselves!

The details of this gathering are as follows:
Date: July 21, 2017 (Friday) beginning at 6 p.m. ~ July 23, 2017 (Sunday) until 1 p.m.
Location: Hyatt Regency Chicago, 151 East Wacker Dr., Chicago, IL 60601

Major Agenda
Education Session:

1. 21st-Century Marketing Trend: Designing Your Web Blueprint
Gone are the days where consumers consult local newspapers for information. The 21st-century consumer is online, perusing the internet for information about anything and everything. In this session, we will discuss the benefits of having an up-to-date web presence, 21st-century marketing essentials, different strategies that can aid in increasing enrollment and retention, as well as the importance of maintaining and managing your online profiles.

2. A Greater Learning Experience – Math & English Resources
There is an abundance of resources available on the ORL. Are you aware of the different items that benefit center and class operation that are available to you? These resources are designed specifically to expand the skills of your students during center time. We will also look at how Eye Level Math Online can be utilized to increase each student's learning experience. In this session, we will discuss these resources along with how and when to use them.
Keynote Session:

1. Keynote Speaker - Seth Andrew
Seth Andrew founded Democracy Prep Charter School in 2006. The school serves New York City students in the most economically disadvantaged communities. As a result of Mr. Andrew's vision and leadership, the New York City Department of Education rated Democracy Prep New York City's #1 middle school in 2010. Mr. Andrew is a well-known author and speaker on K-12 education. He will speak about his personal journey, the need for supplemental education in the U.S., and the current state of U.S. educational policies.

2. The Best Center Director of Noonnopi Learning Center in Korea
The Noonnopi Learning Centers in Korea handle thousands of students each month. We have invited the top Noonnopi Center Director to share her experiences. She will discuss the practices and methods that have brought her success and have led so many parents to trust her and her center with their children year after year.

3. Top-Performing Eye Level Learning Center Directors in U.S
Top-performing Center Directors from the U.S. will share their best practices on growing and building a center. To maintain one of the largest centers in the country, one must market the center intelligently and diligently. We will listen to the Directors' strategies for center marketing and local business relations.
Forum Session: Let's Build Together
Daekyo America would like to build the future together with our franchisees. In this forum, we invite our regional representatives to join a panel. Together, we will discuss how we can provide high-quality customer service to increase customer satisfaction and retention. We will consider how to maximize the effectiveness of our classrooms for each student through the utilization of the SDL desks and layout.
Registration Fee:
Early Registration: Mar 10th ~ Apr 9th, $100 per guest
Regular Registration: Apr 10th ~ May 31st, $200 per guest
Late Registration: June 1st ~ June 30th, $300 per guest

City Tour
We will be organizing a city tour of Chicago on July 21st. The tour will be a fun way to see highlights of the city. The cost of the tour will be $20 per person. You can purchase this tour option at the time of registration. If participation is low, the tour may be canceled. In this case, you will be refunded your $20.

Subsidy:
Daekyo America will provide a travel subsidy. All subsidies are per '1st guest only.' Guests must be in attendance at the conference to be eligible for the subsidy, which will be credited after the event.


Hotel Lodging:
Hyatt Regency Chicago, 151 East Wacker Dr., Chicago, IL 60601
We will provide a private link to reserve the hotel with this rate.
$100 except Illinois
$50 Illinois (We will reimburse parking fee up to $25 per day)
1 and 2 occupancy: $179.00
3 occupancy: $204.00
4 occupancy: $229.00
To register for this memorable Franchisee Conference, please click this link TODAY to reserve your seat(s). Reserve a Seat .
Use this link to reserve your accommodations: https://aws.passkey.com/go/DAEKYOAMERICA
This spring and summer, franchisees can host Eye Level's first official public speaking competition in their centers. The Eye Level Oratacular is a competition in which members and non-members will learn the process of speech writing and delivery in a fun and motivating environment.

Eye Level HQ has prepared the necessary materials for centers to host the Eye Level Oratacular in their local community. These materials include an Event Guide, Registration Form, Speech Template, Tips for Writing a Speech, Rehearsal Guidelines, Judging Criteria, and marketing materials. All materials can be found on the ORL under the Special Topics section on the default home screen. Posters are being developed and should be delivered to franchisees by the first week of May.

The registration dates and event date for this event can be set by each individual franchisee. The event should be hosted between April 3 and June 17, 2017. Each center is responsible for providing their own winning prizes for the competition. However, Eye Level HQ will provide a participation prize to each student. To get the participation prizes for the event, be sure to let your regional office know your number of participants at least two weeks prior to your event date.

Please download and review the 2017 Oratacular Event Guidelines (on the ORL) for complete event details.

We hope to see many centers participate in this exciting new event! If you have any questions, contact your regional office or Spencer Webb (spencer.webb@myeyelevel.com).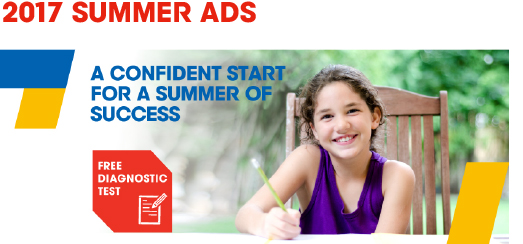 While in many parts of the country it might seem like we are still waiting for spring to arrive, the truth is that summer is right around the corner. This can be a challenging time in the education business, where summer travel and relaxation can often take precedence over keeping up with studies. It's important to start preparing and marketing for summertime early so as to convince and remind as many parents and students as possible that the summer months are critical for a smooth and strong start to the school year come fall.

To help with your marketing efforts and preparation, summer ads have been designed and are available for immediate download and use from the ORL. The ads can be found in the Marketing - Ads & Templates section under "Recommended Ads." Link:http://training.eyelevelnytc.com/course/view.php?id=24

The available summer ads include flyers with and without coupons, half-page flyers, postcard sizes, and graphics for use on Facebook (cover photo, timeline post, and FB ad sizes).