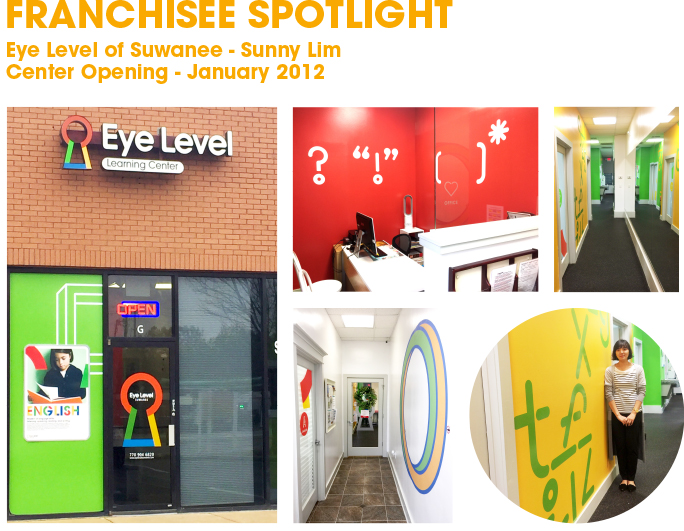 Eye Level of Suwanee
Eye Level of Suwanee began its journey in January 2012. Sunny Lim, the owner and operator of the Suwanee center, had ten years of experience teaching math to different age groups. Prior to 2012, Sunny had been looking to send her children to a systematic and organized educational program; this is when she first came across Eye Level. Sunny was fascinated by the outcomes of the Eye Level program that she witnessed in her own children and became increasingly interested in Eye Level's teaching philosophy and curriculum. Her educational background and firsthand experience with her children led her to open her own Eye Level Learning Center. After operating and managing the Suwanee center for more than five years, Sunny has decided to open a second location in the south of Johns Creek, GA. Her new center is scheduled to open May 2017. She is also working hard to become an Eye Level Performance Society member in the second half of 2017.

Sunny believes that the first impression of the center and how the director communicates with parents are the keys to significant growth. Quality consultations lead to strong and positive relationships with parents and help students remain with the program long-term. Sunny does not focus on knowing only the Eye Level curriculum well, but also the surrounding schools' curriculum. With this knowledge, Sunny is able to understand her parents' perspectives. She knows her students and the details of their progress charts; she is prepared to respond to any questions and concerns from the parents.

Building positive relationships with the students is essential. The students must enjoy the Eye Level programs, and they should be excited to come to the center each week—not forced by their parents. The Suwanee staff works to connect with the students. They will ask them about the classes and how they felt about their homework. Communicating in this way allows the center director to make modifications that will benefit the students.

Putting extra effort in these areas of center management has led to countless recommendations from existing parents. Since the parent and child are satisfied with the services, they refer the program to their friends and families. Most of Eye Level of Suwanee's new children are recommended by existing families.

On January 2017, Sunny decided to attend the Eye Level training program in preparation for opening her new center, even though she had received training in 2012 before opening her first center. There have been numerous modifications to the Eye Level programs, such as the introduction of the online math program, the Key & Manager system, and the revised English program. The training that Sunny received has provided meaningful knowledge and insights that she feels could improve her current center in Suwanee as well as prepare her for the opening of her second center.
 

Level Pre-A is designed for students who have not yet learned their letters or letter sounds. Pre-A allows students to develop the ability to sustain concentration for appropriate periods of time as well as build their basic study and fine motor skills. Throughout Level Pre-A, students will also work on their vocabulary skills, group common relationships, and begin to understand book and word knowledge. Pre-A begins with topics that most preschool students will already know: colors and shapes. This enables them to start working comfortably, get used to the study routine, and feel successful in their academic work. As students progress through the level, they will cover additional topics—such as drawing different style lines (which assists with handwriting skills), orientation of above, behind, and below, as well as book awareness.
Student ability and concentration varies significantly in preschool. As such, some Pre-A students will work quite quickly, while others will need significant help. A good rule of thumb would be to begin with two booklets per week (one in class and one for home) and then adjust from there. When working with students in Level Pre-A, do not expect them to be able to read. The instructor must focus on assisting students by reading all directions or having the student utilize the online audio component. If students are having difficulties answering questions, assist them and then have them move on. If a child is stuck, it leaves room for frustration and may hurt their self-confidence. Although students do not have the ability to read independently at this point, it is important for them to listen to stories as well as repeat words they hear in books. Encourage parents to read from the Recommended Reading List (RRL) to their children, especially towards the end of the level when they are focusing on book awareness. The instructor could also use simple texts for the students to understand the title, author, and illustrator. Level Pre-A is important for skill development that leads into Levels A and B.

Level 15 Booklet 23 – Pages 3 & 4
Learn how to find the missing number by following the rules (indicated by arrows).

Sample Pages for Guiding Students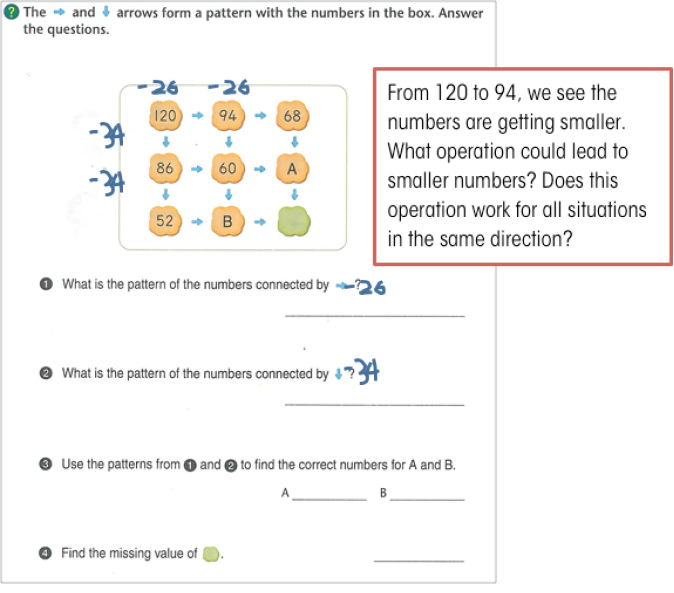 Coaching Method & Tips
Follow the direction of the arrow


When the number is getting bigger/smaller, consider what operation would be needed
(for example, bigger would be related to multiplication and addition)


The same arrows will have the same operation/rule


Complete all missing numbers step-by-step
The value of the green space can be found by using the vertical or horizontal arrow pattern.
Level 15 Booklet 23 - Pages 9 &11
Find the ones place value when the given number is multiplied by itself.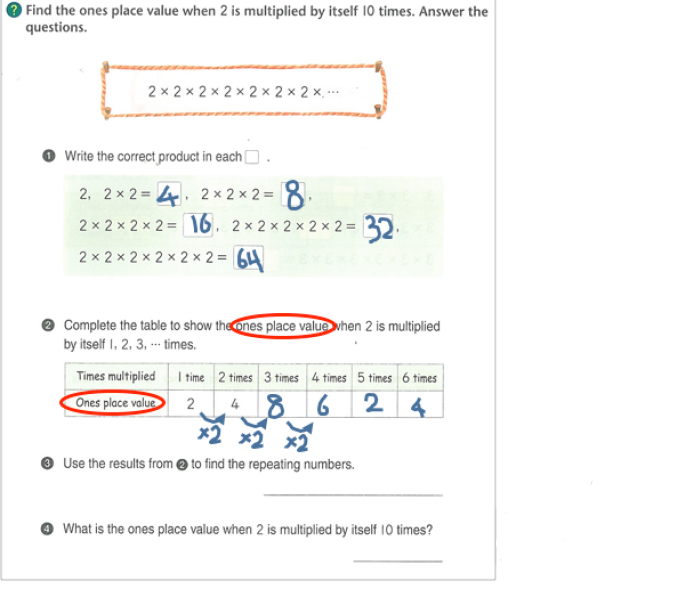 Coaching Method & Tips
Students need to know which place is the ones place


The process is simpler than it seems, as we only need to consider the ones place values


For complex calculations, such as 8×8×8, the student needs to know that 8×8 is 64


Then they can use the 4 (from 64) and multiply it by another 8 (resulting in 32)


This means the ones place of 8x8x8 is 2
In the example from the image:
The ones place values are 2,4,8,6,2,4…this shows a repeating pattern of 2,4,8, and 6


This means for every four times that we multiply 2 by itself, the ones place value will be the same—like the first and fifth, or the second and the sixth (see the table in the image)


To find the ones place value after 10 times, the most effective method is to use division


The numbers repeat after 4 times, making a cycle of 4


When finding the 10th result, we can divide 10 by the number of cycles (4)


We then multiply 2 times itself based on the remainder to find the ones place value


So, 10/4 = 2 R2; we would then multiply 2 by itself twice (since the remainder is 2)


2x2 = 4; so, the ones place on the 10th time would be 4
Level 17 Booklet 23 – Pages 3 & 5
Find the values of A & B using the given numbers and the directional arrows.

Sample Pages for Guiding Students
Coaching Method & Tips
This question type is similar to that of booklet 23 from Levels 12 and 15


However, the calculation in this level involves as much as two operations in one line (knowledge of the order of operations is required)


It is necessary to follow the direction of the arrow when calculating
Level 17 Booklet 23 – Pages 9 & 11
Find the missing number in a series of amazing math patterns.

Sample Pages for Guiding Students
Coaching Method & Tips
Look at the changes and compare between each set of numbers


Compare how many numbers have been added each time (for example, how many 1s or 0s have been added from the previous set?)


Pay careful attention in these types of problems; the given information may not always stay consistent


The pattern may not increase by one digit in each shown step; the question may provide ×2,×3,×4,×5 but then suddenly jump to x7, skipping x6
Daekyo America is planning to hold a National Franchisee Conference this summer in Chicago, IL. The dates for the event are July 21 - 23. We will be sending more information soon, as well as collecting RSVPs - so remember to save the date. We look forward to seeing you there!

In conjunction with the National Franchisee Conference, we are adding a national final round to The Critical Thinking Challenge on July 23. Regional winners will now advance to the final round, which will take place on Sunday morning, July 23 in Chicago.