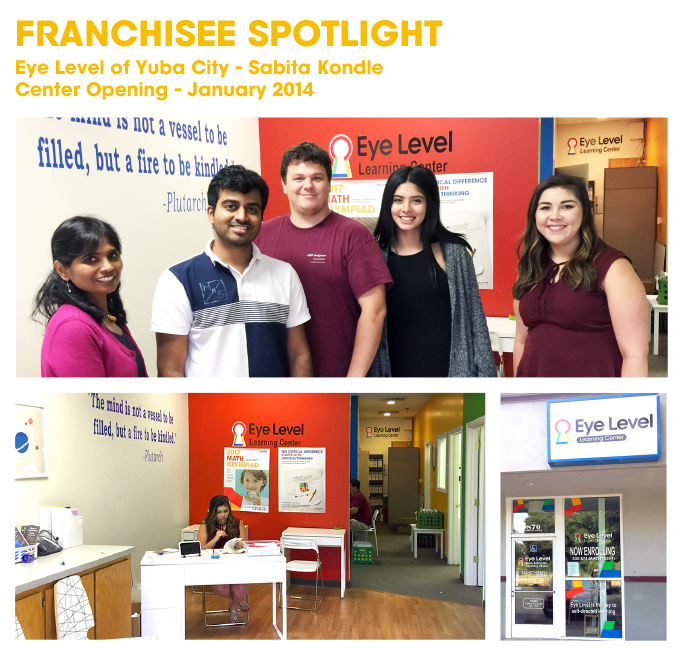 Sabita Kondle has been working in the educational field for more than two decades. She has guided and nurtured thousands of students over the years. Currently, Sabita runs the Eye Level Learning Center of Yuba City along with four other Eye Level centers (Roseville, Natomas, Folsom, and Elk Grove) in the Greater Sacramento area. Her undying commitment to education is now pushing her to open five more centers. In addition to being an Eye Level franchsiee, she works as a counselor for students in the process of preparing for college.

Sabita believes that the most important aspect of the Eye Level program is the starting point. A student's ultimate success with the Eye Level studies hinges on him or her starting at the right point within the program. Along with the diagnostic test rubric from Eye Level, Sabita challenges the prospective student in different ways to thoroughly understand where exactly the child stands, giving an opportunity to set short-term and long-term goals.

The Yuba City center is unique in that it serves a rural community, many of whom are first generation college-goers that have been nurtured by Sabita. This poses its own set of challenges and opportunities for growth. Yuba City is lucky to be serving a close-knit community, and word-of-mouth has been instrumental in the success of this center. Well-qualified instructors with a passion for instructing and learning, constant monitoring of each child's progress, and good communication with parents have naturally resulted in good recommendations. Sabita makes sure she is available, via phone or in person, to the parents at all times. She tries to always find a positive way to face challenges. Other marketing techniques include visiting Sunday Punjabi schools and participating in parent-teacher meetings of schools in the Yuba City school district.

Along with the Eye Level curriculum, students at Yuba City are motivated through various contests like Spelling Bees, writing tasks, and more. Last month, the center held a Spelling Bee in which students of all five of the Greater Sacramento area Eye Level's had fun participating.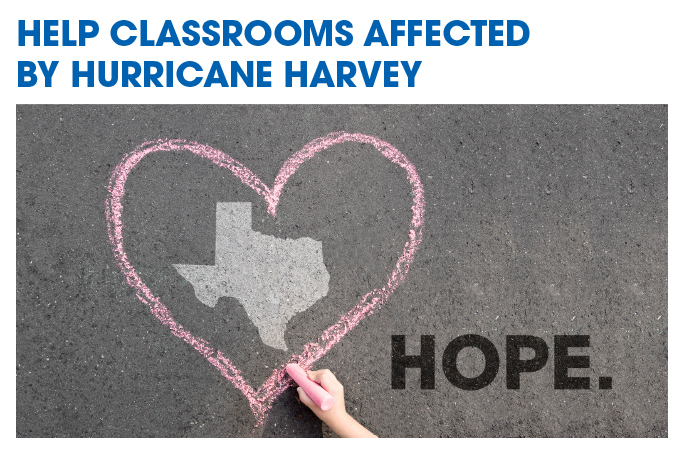 Eye Level is hosting an online campaign in order to provide support for classrooms and teachers that have been impacted by Hurricane Harvey. This event is running through the corporate Facebook. Be sure to share the information to your center's Facebook page and to encourage your students to participate!

Children can participate by downloading our drawing template from myeyelevel.com. The child will need to draw a picture and write a few sentences about one of two topics:
A period in your life when you went through a difficult time and overcame
A message of hope for children and families affected by the hurricane
Once finished, have the parent upload a picture of their child's drawing to the Eye Level Facebook event page (Eye Level Facebook) and a donation will be made by Eye Level to help support classrooms in the affected areas. For every child's drawing shared on our Eye Level Facebook event page, Eye Level will donate $10 (up to $10,000) to Donors Choose (www.donorschoose.org/hurricane-harvey).

From Donors Choose's website:
"100% of donations to the [Donors Choose] Hurricane Harvey Recovery Fund will support classroom projects from schools impacted by the storm."

Drawings must be shared between now and September 30th on the Eye Level Facebook event page. If your students or parents experience trouble posting the picture to our Facebook page, please email us at eventusa@myeyelevel.com for assistance.

Student ability within Level F will vary significantly, especially among newly enrolled students. Students in this level are moving away from the phonics areas of developing words and shifting focus onto grammar concepts. Students will learn explicit spelling conventions for writing words correctly. They will acquire various grammar skills that will help them construct sentences. These grammar and spelling concepts strengthen the student's writing ability in terms of body content and details.

Some Level F students will read quickly and comfortably, while others may struggle. Use the comprehension sections, and particularly the fluency section, to assess students' reading ability. When students struggle with concepts or comprehension have them refer to examples, the passage they are reading, or problems they have completed correctly. This is particularly helpful for grammar-related booklets. Students who have many mistakes in graded booklets may benefit from doing the booklet over again rather than struggling through corrections on top of a new booklet. Use the review booklets to assess students' strengths and to consider possible concepts for review.
Level F introduces a significant change in the structure of the writing booklets. There are five writing booklets covering the entire level, which cover the four writing text types: narrative, information, opinion, and research. One of the booklets asks students to respond to a written text in addition to a prompt. Additionally, the writing in Level F focuses on composing one complete paragraph with a topic sentence, supporting details, and a conclusion. One writing booklet should be completed for each section of six reading booklets. A single writing booklet will span a three-week period as they are required to complete a first and final draft. The instructor should monitor and check the first draft after completion. Once completed, the student should make changes and compile a final draft that will then be graded utilizing the rubric on the back of the writing booklet. The rubric should always be utilized when grading the final draft. If a student's score does not fall within the proficient or advanced proficient range, they should be required to complete an additional final draft, correcting the areas in need of improvement as explained by the instructor.
As with previous levels, students' progress and pace through the booklets will vary. However, most students will be able to complete two booklets per week. They should be able to complete the target pages within these two booklets during the class session, completing the rest of the pages from the two booklets as homework. If students are struggling to complete two booklets in a week, restructure their session and have them complete one booklet for the week. By completing one booklet per week, students will take a bit longer to go through the level but should have a better level of mastery prior to taking the Level Test.

oach pages: 3, 4 & 5
Determine different combinations of payments based on given conditions.
 
Ensure students know the given condition (how many different types of bills can be used).
The dots in the table indicate a combination is not possible, so nothing has to be written in that space.
Begin the combination by using one bigger value bill and determining how many of the smaller bills would be needed. Then, move on to use two, and then three bigger value bills, and so on until no more combinations can be made within the available amount of bills.
Coach Pages: 9 & 10
Find the combinations of a fixed score when shooting three or four arrows.
 
This is related to Level 12 Booklet 24.
Begin by assuming all arrows hit the same space on the target, starting with the largest possible point.
In the example, all three arrows could not have hit the 5-point section, as this would produce more than 12 points in total. Therefore, consider two arrows hit the 5-point section, which would require that one arrow hit the 2-point section. After this, assume only one arrow hit the 5-point section, which would mean we need 7 more points with two arrows. This would be the 3-point and the 4-point sections.
A dot is placed to denote an impossible combination.
After completing all possible combinations with the largest point section, move to the next (4-point section in this case) and continue the same process.